Midwest Marble + Granite + Quartz
We'll Rock Your Kitchen!
Olathe's Expert in Stone Countertop Installations
Marble + Granite + Quartz Countertops
Elegant, Beautiful, Durable, And Always In Style.
For over a decade, we have been the Kansas City area leader in custom fabrication and installation of premium kitchen and bathroom stone countertops. For aesthetic appeal, texture, durability, and value over a long period of time, stone countertops are an obvious choice.
Natural stones such as granite, quartzite, marble, onyx and soapstone and engineered quartz have many application options from kitchen and bathroom countertops to fireplace surrounds and outdoor kitchens and bars. Midwest specializes in granite & quartz countertop installations. Check out some of our projects on Houzz.com to see the endless possibilities.
About Midwest Marble & Granite LLC
Quality is very important to what we do.
Midwest Marble + Granite + Quartz was created and built on the quality-over-quantity factor. It reflects in the estimates we provide all the way to the stone installation. Purchasing stone countertops is a substantial decision to make no matter the size of the project. So, we want to make sure our clients are happy with the decisions they are making without settling. Every client becomes part of our family and we help guide them through the process of updating their project.
How Can We Help You?
Countertop Installation
Using only the finest and most natural stonework, we are able to transform your home into a beautiful masterpiece. Our marble, granite, & quartz fabrications and installations are ideal for bathroom and kitchen remodeling, fireplace surrounds, bathroom vanities, desktops, walls, countertops, benchtops, outdoor kitchens, bar tops, & many more surfaces.
Whether you are updating your bathroom or kitchen, the addition of a beautiful stone countertop can create a stunning focal point that rejuvenates the entire decor. You can select from a wide array of colors and edgework to complete the entire look of your home renovation. Our natural stone countertops are installed with complete attention to detail & the utmost care to create a polished finish that gleams with perfection.
Stone Countertop Materials
Stone Countertop Colors
Our luxury countertops selection offers a variety of colors and patterns. Selecting the right color for your stone countertops can be a challenging task for many homeowners, as it comes in such a variety of unique color combinations and designs that it is easy to be overwhelmed.
To get started, consider the following. All kitchens and bathrooms have cabinets, but the kitchen is where the color coordination is the most important. Your countertops and cabinets go hand-in-hand, so they have to look good together.
If you're looking to create color combinations that go great together, you'll want at least some variation. For example, black cabinets with black countertops can visually minimize the size of the room. But if you have white, marble countertops that have gold veining, you can pair them with black cupboards and pick up the gold from the countertops somewhere else in the room.
The Midwest Marble & Granite Showroom provides the perfect setting for you to discover the many choices up close with hundreds of countertop materials, styles, and colors to help coordinate your ideas all in one location. Our knowledgeable staff will help you see all the possibilities, and work with you to create design solutions that match your needs, budget and lifestyle.
You can also take inspiration from our online stone color catalog or visit our design gallery on Houzz.com.
Sinks
Almost 100% of the projects that Midwest Marble & Granite commences, not only are new countertops replaced and/or installed but a new sink is also installed. The new sink could be provided by the client or we can provide a sink from one of our suppliers. To get a good idea of the sinks we provide and install, there is a list here with pictures and descriptions.
This list is not limited to just these sinks, we can provide more. The most popular sinks that we have been providing are the Blanco granite composite undermount 60/40, Blanco granite composite undermount 40/60, and Blanco stainless steel undermount 60/40. Furthermore, the most popular color of granite composite sinks has been anthracite, cinder, and cafe brown.
These sinks have been known to coordinate well with the most favored granite colors (i.e. white, light-colored, some pattern). We also welcome the idea of clients providing their own sinks that have been purchased for the project. The clear-cut winner in a customer provided sink is typically a farmhouse sink.
We do not install farmhouse sinks and we require that the sink is installed before we template the countertops. As of right now, we can supply a few farmhouse sinks from Ferguson, which is the Blanco Cerana fireclay farmhouse sink, and from MSI, which is a fireclay farmhouse sink as well (with or without the center divider). We will NOT install the sink though due to the cabinet having to be altered in order for the sink to be installed. Unfortunately, we are not cabinet makers.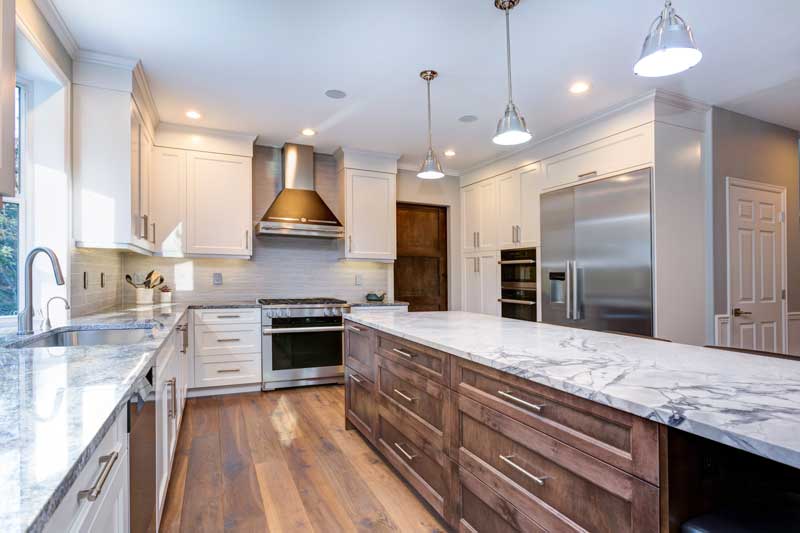 We wanted a company that could help educate us on the different types of materials available for our counter tops and provide excellent customer service. Nick started by meeting us at our home on a Saturday morning and then went with us to two granite warehouses explaining the composition of the slabs we were interested in. With his advice, I'm sure he kept us from making a decision that we would have regretted later. That Saturday, I believe that Nick spent 4 hours with us. Their communication was great throughout the whole process and the quality in the end product was amazing. Nick and his crew were very professional and accommodating. We will definitely use them again and we highly recommend Midwest Marble & Granite.

John Owens
Midwest Marble + Granite Customer
READ MORE TESTIMONIALS