The Definitive Guide to Granite Countertops
Introduction:
Everything You Need To Know About Granite Countertops
Getting your kitchen countertops right is the most important factor in ensuring a functional and practical kitchen area. Whether your current countertop situation is cramped and small, just right but impractical, or large and expansive, a countertop redesign with the right materials will make all the difference in helping you to get the most out of the space. In this guide, Midwest Marble & Granite will cover every topic you will need to research about granite before you get started.
What is Granite?
Granite is an igneous rock made up of primarily quartz, feldspar, micas, amphiboles, and a mixture of additional trace minerals.
These minerals and their variation in abundance and alteration give granite the numerous colors and textures we see in granite countertops.
Granite may sparkle in the sun. This is because one of the minerals in granite is mica. The sparkle that granite has comes from tiny pieces of mica embedded in the rock.
is granite a popular stone for countertops?
According to Consumer Good Reporting, Granite is the most popular natural stone countertop material used for remodeling homes in the United States in 2022.
Granite Countertop Benefits
In the not-so-distant past, homeowners in luxury homes all wanted granite countertops. But in the last several years many of these homeowners are looking for quartz as an alternative countertop material. These are the top reasons why.
Granite is highly durable and strong.
Granite is scratch- and heat-resistant.
Granite is a natural stone, it offers a unique, earthy appearance.
Quartz has a uniform look and feel.
Because quartz isn't porous, it resists bacteria.
How much does it cost to have Granite Countertops installed?
The average cost to have Quartz countertops installed in the Kansas City area averages between $85 – $150 per square foot including template, materials, labor, and cleanup.
What causes the cost to fluctuate?
Quality of the Granite.
Supply and demand of the Granite.
Old countertop removal & disposal.
Edge profile choice.
Sink cut-out & sink installation.
Your location/distance from our shop.
What are the different grades of granite?
Granite comes in three different grades ranging from entry-level to high-grade. Granite's grade is determined by veins, pitting, marks, thickness, soft materials inside the composition, colors, and the country which it is sourced from.
Grade 1: Entry-level granite is also known as "builder" or "commercial" grade and is a thinner slab. Not suggested for high-traffic areas.
Grade 2: Mid-grade granite typically has an average thickness of ¾-inch and is tougher and more durable.
Grade 3: This high-grade granite is usually imported from Brazil or India and has an average thickness of 3.5 inches.
Most Popular Granite Countertop Colors
From solid bright white to a grey brushed-like finish, these latest Quartz countertop color trends will set the tone for the rest of your design scheme in 2022.
Black Pearl Granite
Fantasy Brown Granite
River White Granite
Luna Pearl Granite
Arctic Storm Granite
Black Galaxy Granite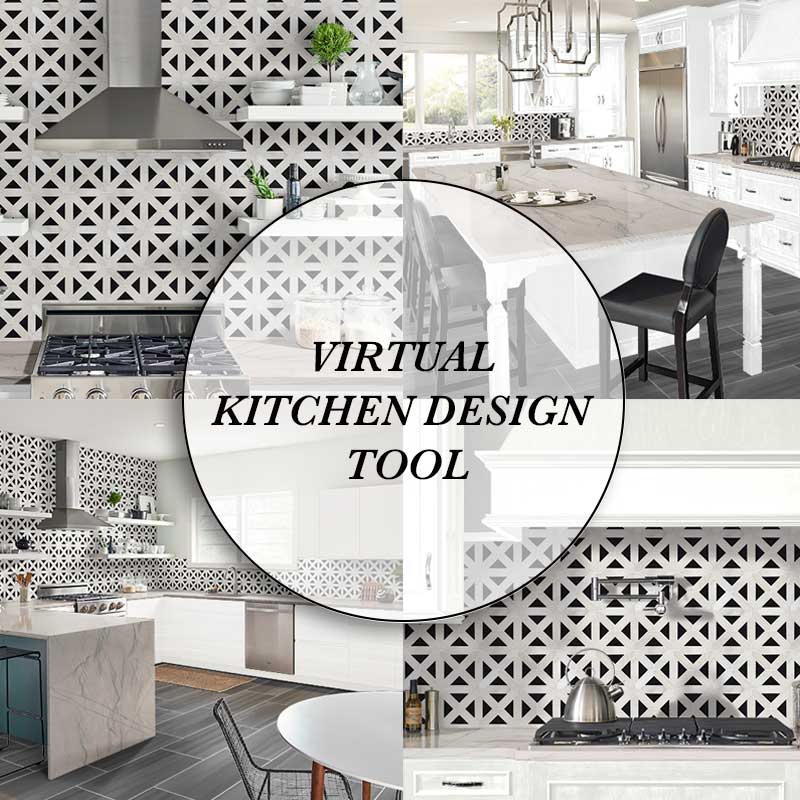 How will Granite Countertops look in your kitchen?
Design your kitchen virtually with our 3D room planner.
The Midwest Marble & Granite Kitchen Virtual Design Tool allows you to choose from three kitchen layouts, a wide variety of cabinet colors, tile backsplashes, countertops, and floor tiles.
Granite Countertop Finishes
Polished
A smooth surface with a glossy finish that reflects light. A polished finish highlights the pattern and color of the quartz.
Honed
Honed has less of a shine and looks more natural.
Concrete
It's a lightly textured surface that appears grainy.
Leathered/Brushed
Leathered/brushed feels bumpy or coarse to the touch. This surface is the most porous.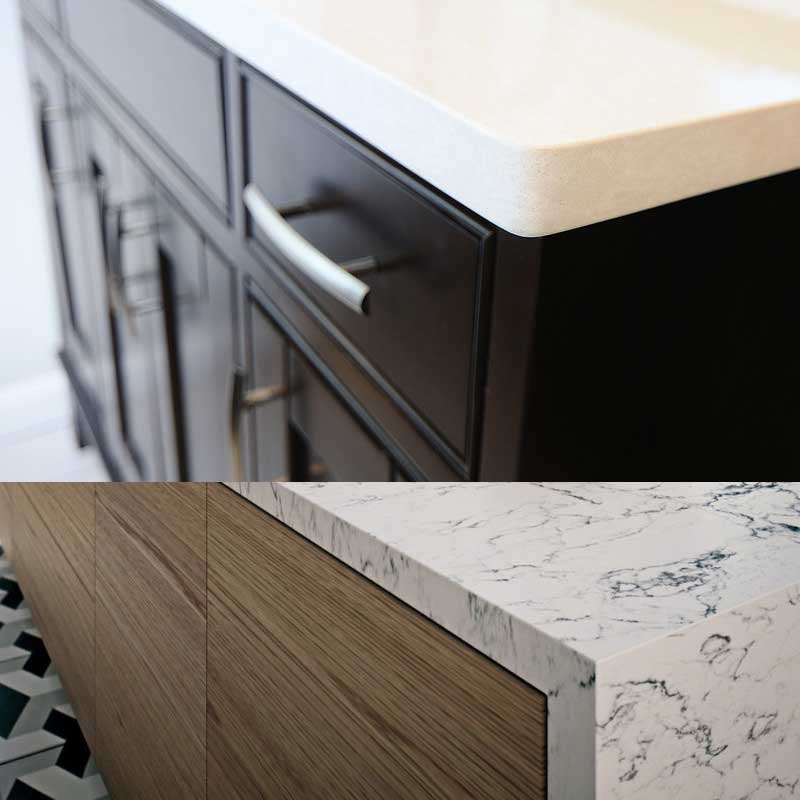 Popular Edging Options for Granite Countertops
Eased Edge
An eased-edge countertop has rounded square edges. The look and feel will be modern, simple, and classy.

Waterfall Edge
A waterfall edge makes a 90-degree angle at the end of the countertop. Rather than simply ending with a finished edge, the countertop turns toward the floor and continues down the side of the cabinet, island, or seating area.
Granite & Spirituality
Granite is believed to help your health, energy, and overall situation. Granite is associated with strength and can be worn as a talisman to strengthen your hair, muscles, and bones. Granite is associated with abundance and protection.
With the elemental powers of water and earth, ocean-tumbled granite is a unique stone combining the elements of the sea with the deep-rooted foundations of the earth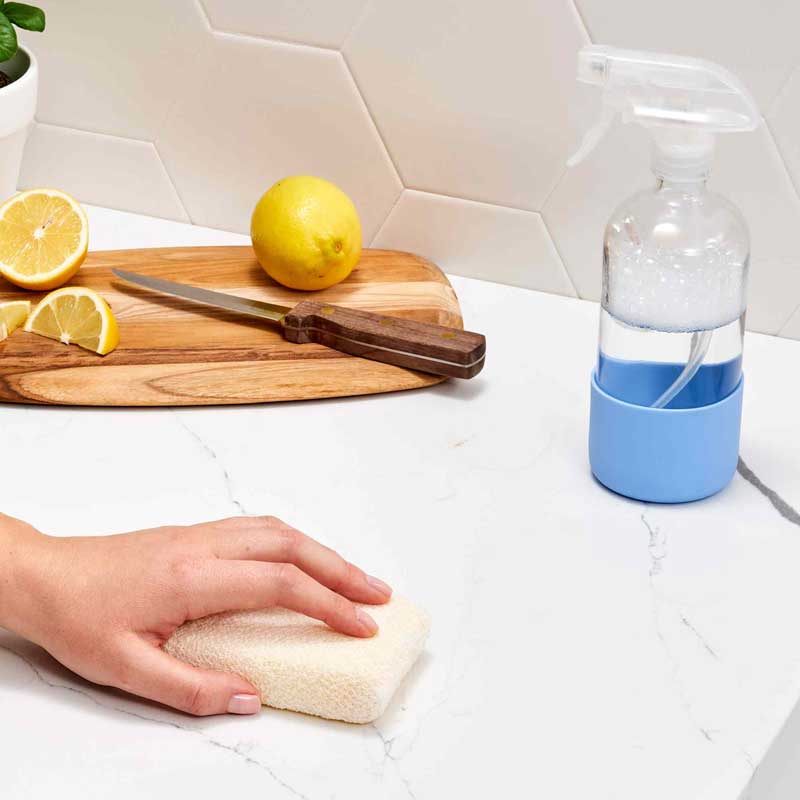 Granite Countertop Care
It's as Easy as 1, 2, 3!
Step 1: Wipe down your Granite Countertops with mild dish soap and a soft rag.
Step 2: Gently scrape dirt or food from the Granite surface with a putty knife.
Step 3: Wipe off grease using a Granite safe degreaser.
Midwest Marble & Granite Countertop Installation Service Area
Midwest Marble & Granite is located in Olathe, KS but provides expert granite countertop installation services to Overland Park, Lenexa, Shawnee, Leawood, Shawnee, Desoto, Lee's Summit, and the entire Kansas City area.