The Definitive Guide to Marble Countertops
Introduction:
Everything You Need To Know About Marble Countertops
Getting your kitchen countertops right is the most important factor in ensuring a functional and practical kitchen area. Whether your current countertop situation is cramped and small, just right but impractical, or large and expansive, a countertop redesign with the right materials will make all the difference in helping you to get the most out of the space. In this guide, Midwest Marble & Granite will cover every topic you will need to research about Marble before you get started.
What is Marble?
When limestone, a sedimentary rock, gets buried deep in the earth for millions of years, the heat and pressure can change it into a metamorphic rock called marble.
Marble is strong and can be polished to a beautiful luster. It is widely used for buildings, statues, floors, and countertops. As you can see from the picture, marble has a very sparkly luster. It occurs in many different colors such as white, pink, gray, red, yellow, or black.
What's so great about Marble countertops?
Quartzite look and feel are very similar to Granite but It also looks a lot like marble, which many agree is the epitome of luxury when it comes to natural stone countertops.
Marble Countertop Benefits
The subtle sheen of marble countertops evokes an air of elegance that can add a timeless ambiance to any home. Luminous, luxurious marble brings a crisp brightness that soapstone, granite, or man-made materials simply can't duplicate
Marble is a natural stone, so it's more resistant to scratching, cracking, and breaking.
Even though it looks stunningly expensive, marble can actually cost less than other natural stone
Marble has long been favored by professional chefs because it stays cool, making it ideal for rolling out pastry.
Marble countertops are heat resistant as well.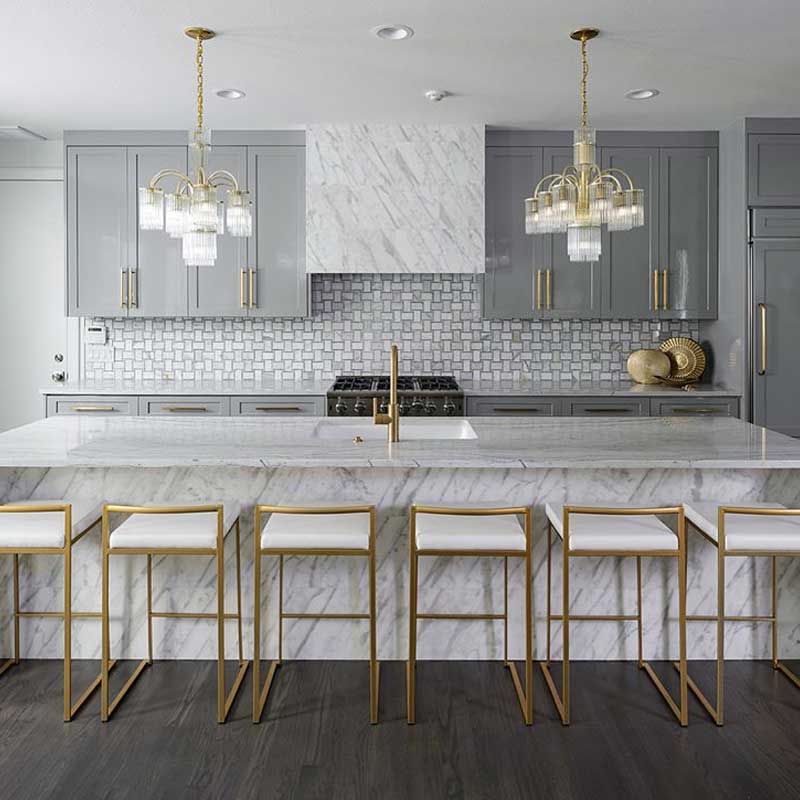 How much does it cost to have Marble Countertops installed?
The average cost to have Marble countertops installed in the Kansas City area averages between $60 – $125 per square foot including template, materials, labor, and cleanup.
What causes the cost to fluctuate?
Quality of the Marble.
Supply and demand of the Marble.
Old countertop removal & disposal.
Edge profile choice.
Sink cut-out & sink installation.
Your location/distance from our shop.
Fun Facts about Marble
Started as Limestone
Marble is probably the closest you'll ever get to a volcano. Once limestone goes through volcanic and tectonic activities that involve extreme pressure and heat, it changes its appearance and molecular structure.
Hypoallergenic
Marble is a dense material, making it hypoallergenic. So, it is ideal for families with smaller kids or people with allergies.
A Symbol of Love
The Taj Mahal of India is made entirely using marble stone and houses the tomb of Mughal emperor Shah Jahan's favorite wife Mumtaz Mahal.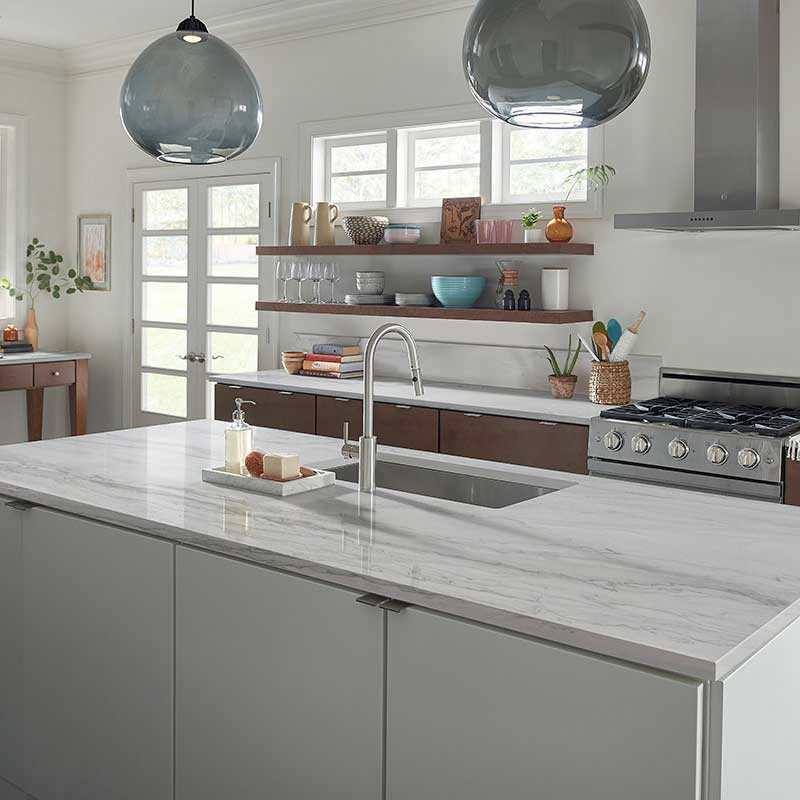 Most Popular Marble Countertop Colors
From solid bright white to a grey brushed-like finish, these latest Quartzite countertop color trends will set the tone for the rest of your design scheme in 2022.
Florida Wave Quartzite
Taj Mahal Quarzite
Zermat Quartzite
Sea Pearl Quartzite
Mercury Gray Quarzite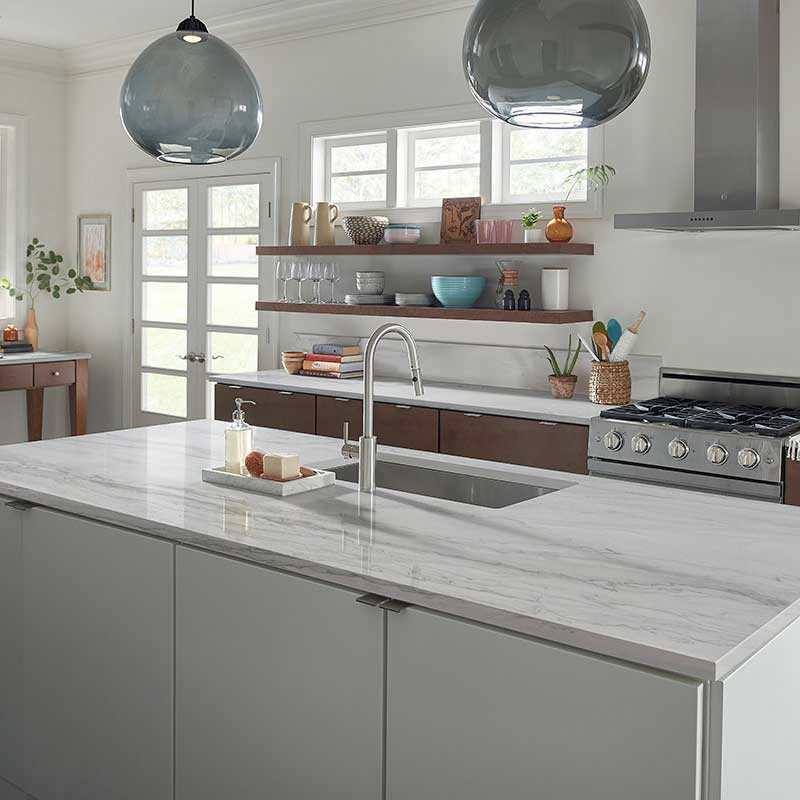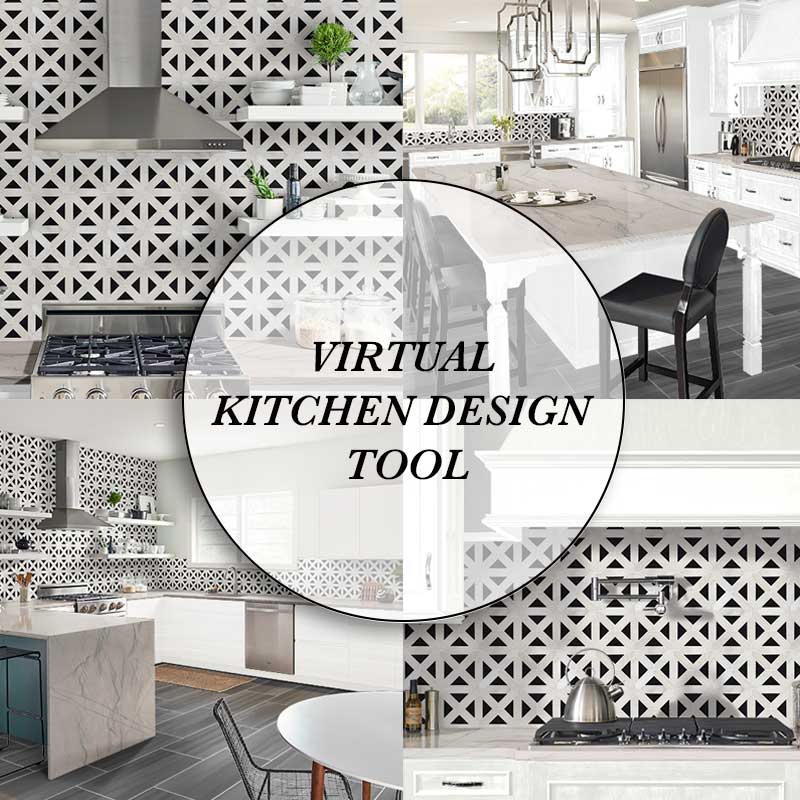 How will Marble Countertops look in your kitchen?
Design your kitchen virtually with our 3D room planner.
The Midwest Marble & Granite Kitchen Virtual Design Tool allows you to choose from three kitchen layouts, a wide variety of cabinet colors, tile backsplashes, countertops, and floor tiles.
Marble Countertop Finishes
Polished
A smooth surface with a glossy finish that reflects light. A polished finish highlights the pattern and color of the quartzite.
Honed
Honed has less of a shine and looks more natural.
Concrete
It's a lightly textured surface that appears grainy.
Leathered/Brushed
Leathered/brushed feels bumpy or coarse to the touch. This surface is the most porous.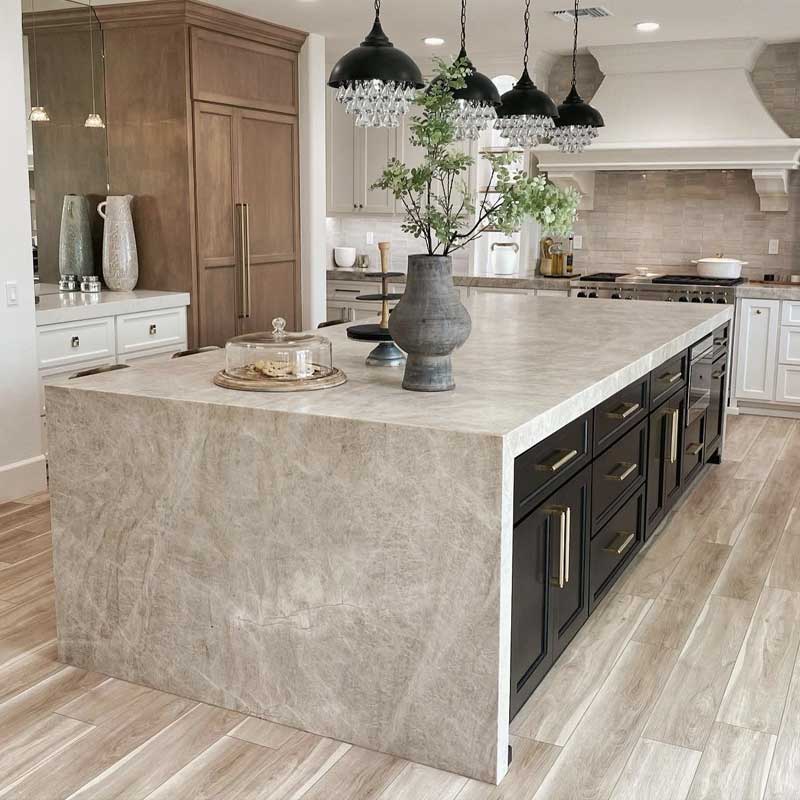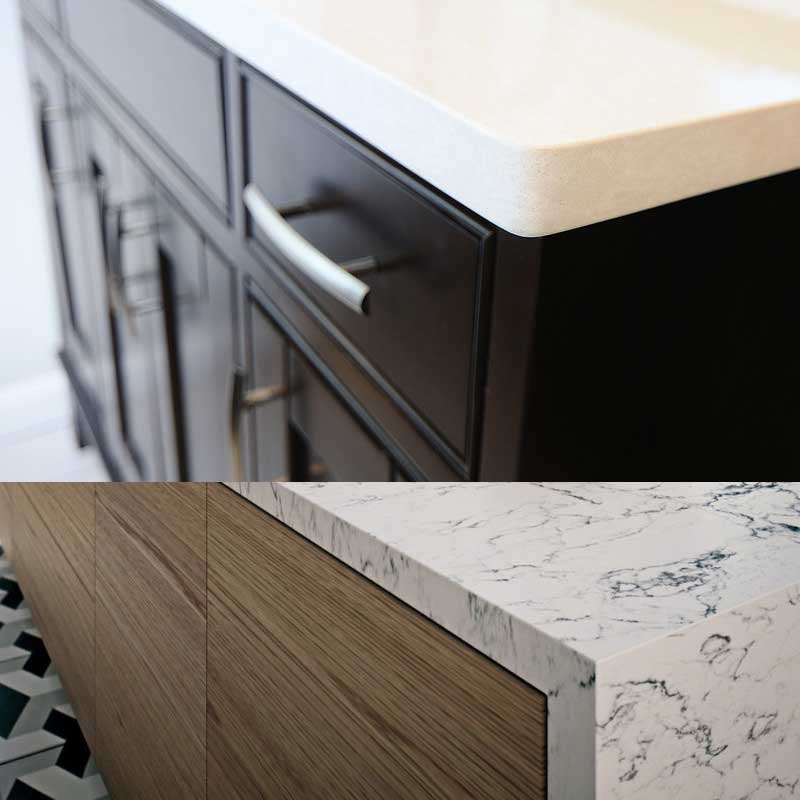 Popular Edge Options for Marble Countertops
Eased Edge
An eased edge countertop has rounded square edges. The look and feel will be modern, simple, and classy.

Waterfall Edge
A waterfall edge makes a 90-degree angle at the end of the countertop. Rather than simply ending with a finished edge, the countertop turns toward the floor and continues down the side of the cabinet, island, or seating area.
Marble & Spirituality
Quartzite has some wonderful healing properties for the mind, body, and spirit. Quartzite is a natural energy and mood stabilizer.
Quartzite is also an amazing grounding element meaning it ensures that changes do not occur so rapidly that your overall balance is upset; it holds the reins and prevents changes from occurring too swiftly.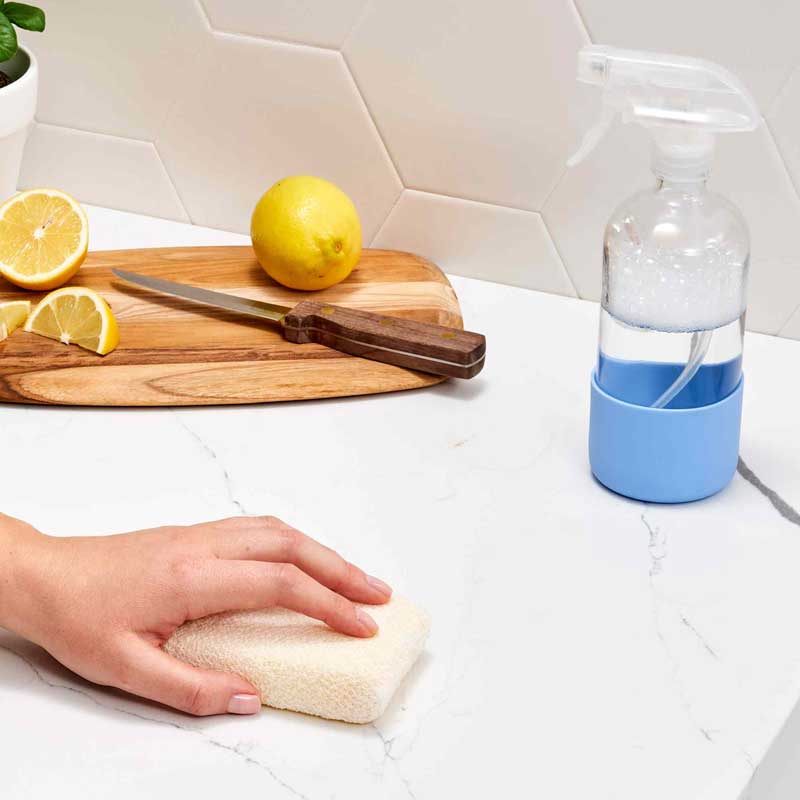 Marble Countertop Care
Keep it simple with these easy-to-follow tips on how to care for your Quartzite countertops.
A damp washcloth with a drop of PH-balanced soap is really all you need.
NEVER use granite cleaners from a store as they tend to contain "Enhancers" or oil bases that can darken the stone.
ALWAYS clean spills as soon as they happen. The longer a spill sits on the top, the greater the likelihood of staining.
Midwest Marble & Granite Countertop Installation Service Area
Midwest is located in Olathe, KS but provides expert marble countertop installation services to Overland Park, Lenexa, Shawnee, Leawood, and the entire Kansas City area.