The Definitive Guide to Quartzite Countertops
Introduction:
Everything You Need To Know About Quartzite Countertops
Getting your kitchen countertops right is the most crucial factor in ensuring a functional and practical kitchen area. Whether your current countertop situation is cramped and small, just right but impractical, or large and expansive, a countertop redesign with the right materials will make all the difference in helping you to get the most out of the space. In this guide, Midwest Marble & Granite will cover every topic you need to research about Quartzite before you start.
What is Quartzite?
Quartzite is a hard, non-foliated metamorphic rock that was originally pure quartz sandstone. Sandstone is converted into quartzite through heating and pressure usually related to tectonic compression within orogenic belts.
Quartzite is often compared to granite in terms of hardness and durability. It combines that toughness with the variegated patterning of marble, which makes for an alluring combination.
What's so great about quartzite countertops?
Quartzite's look and feel are very similar to granite but also closely resembles marble, which many agree is the epitome of luxury in natural stone countertops.
Quartzite Countertop Benefits
Quartzite is a natural stone with properties similar to granite, including hardness and durability. The peculiarities of this stone's formation make it highly resistant to heat and water, meaning it will remain damage-free for a long time.
Quartzite is highly durable and long-lasting.
Quartzite is a cost-effective natural stone and cheaper than marble.
Quartzite has a raw appeal as it is a natural stone.
Quartzite looks like granite but won't etch.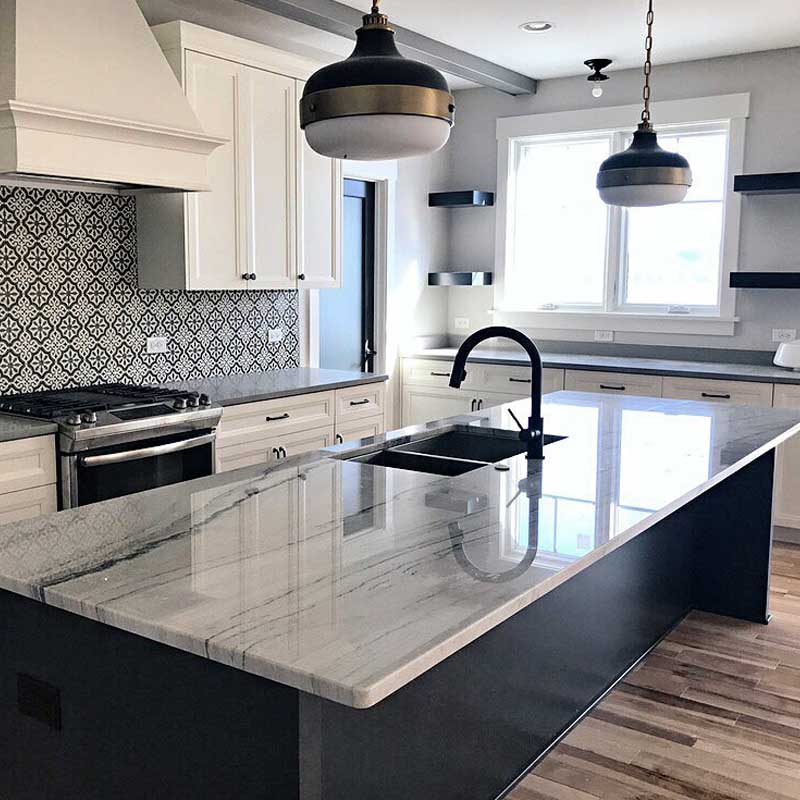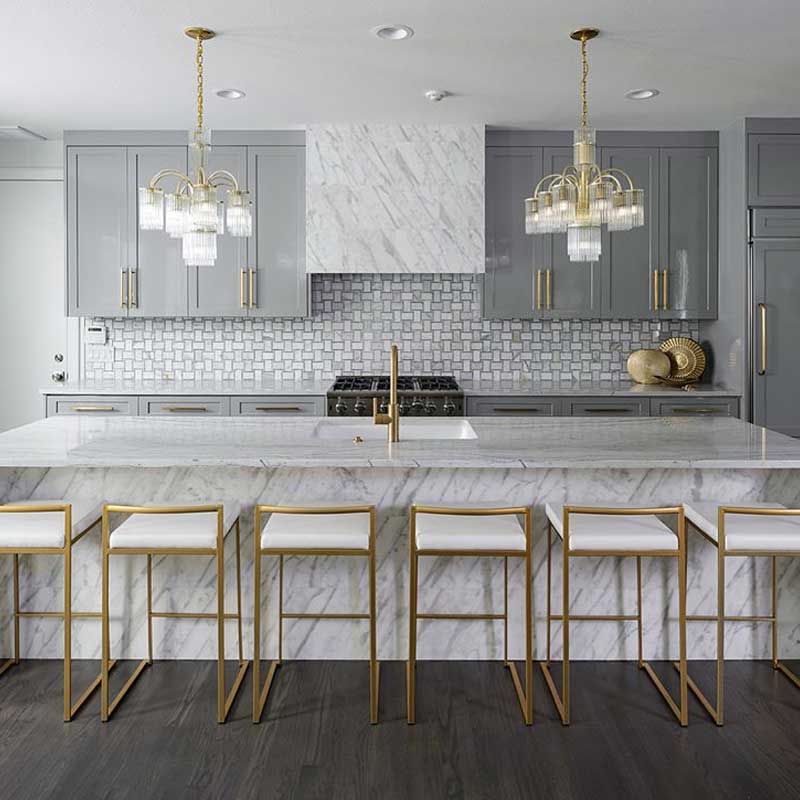 How much does it cost to have Quartzite Countertops installed?
The average cost to have Quartzite countertops installed in the Kansas City area averages between $85 – $250 per square foot including template, materials, labor, and cleanup.
What causes the cost to fluctuate?
Quality of the Quartzite.
Supply and demand of the Quartzite.
Old countertop removal & disposal.
Edge profile choice.
Sink cut-out & sink installation.
Your location/distance from our shop.
Fun Facts about Quartzite
Hardest Natural Stone
Quartzite, which contains at least 90% quartz, comes in at an 8 on the Mohs scale. This gives it a slight edge over granite which comes in between 6-8, making Quartzite the hardest natural stone countertop commonly available.
Resistant to Acids
Quartzite is resistant to acids and will not etch from acids such as vinegar or lemon juice. If it etches it's not real quartzite.
High as a Mountain
Quartzite structure is smooth and hard-wearing with a granular appearance and tends to be seen in hill or mountain ranges, or on rocky coastlines.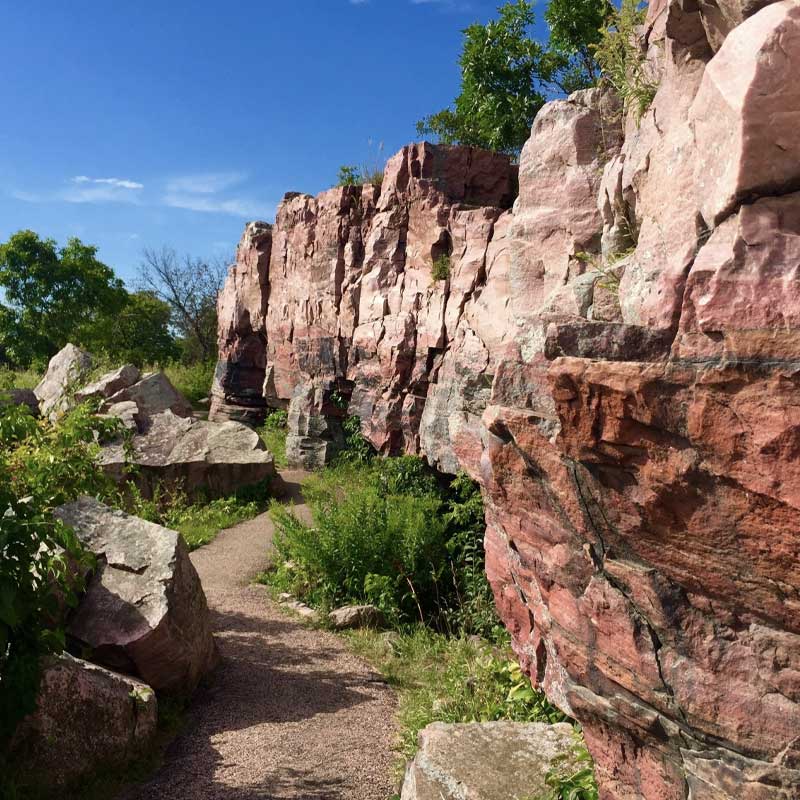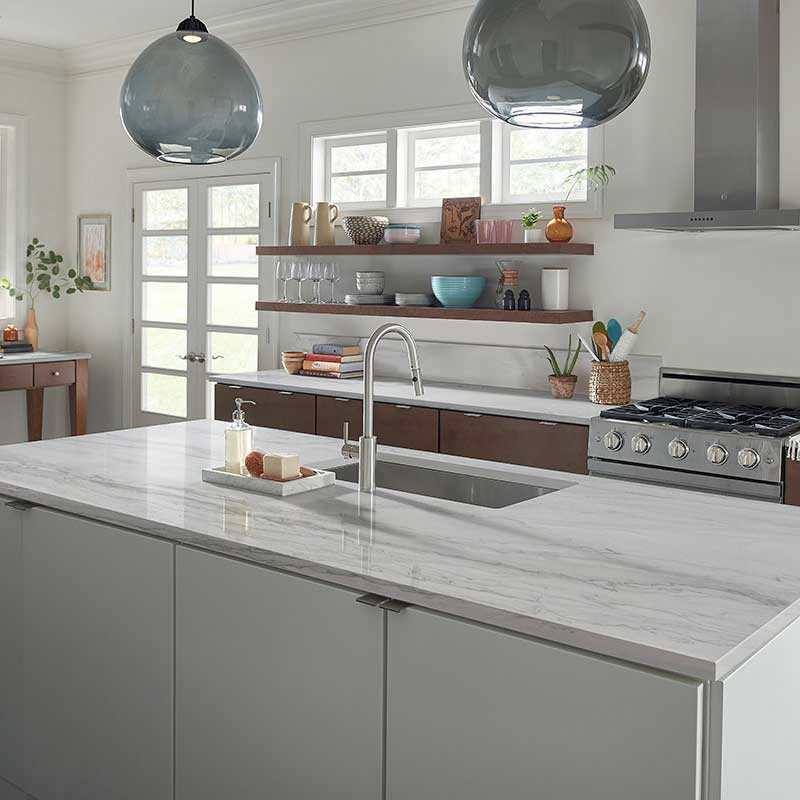 Popular Quartzite Colors
From solid bright white to a grey brushed-like finish, these latest Quartzite countertop color trends will set the tone for the rest of your design scheme in 2022.
Florida Wave Quartzite
Taj Mahal Quarzite
Zermat Quartzite
Sea Pearl Quartzite
Mercury Gray Quarzite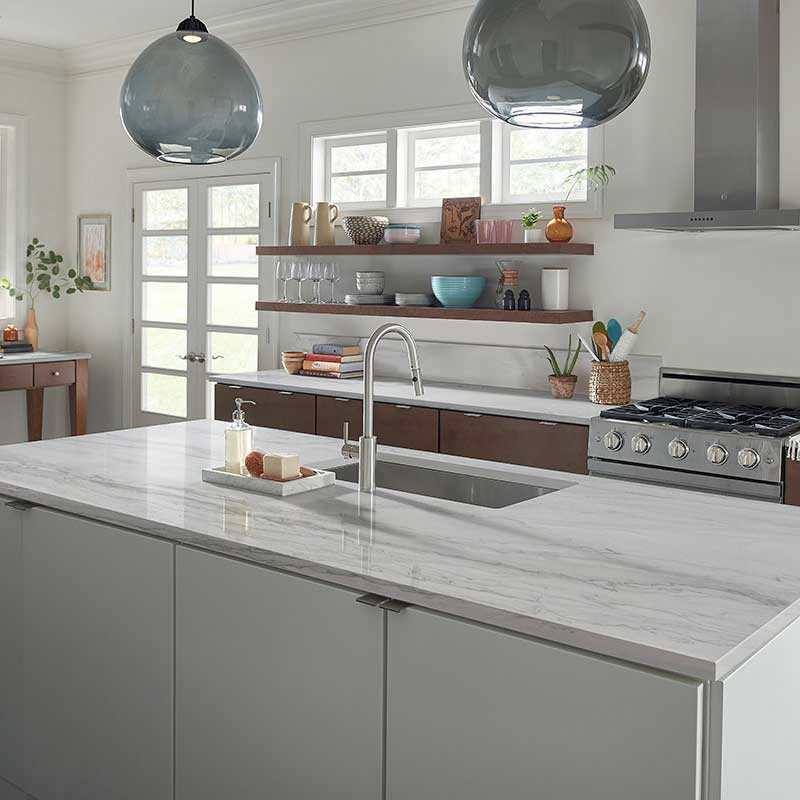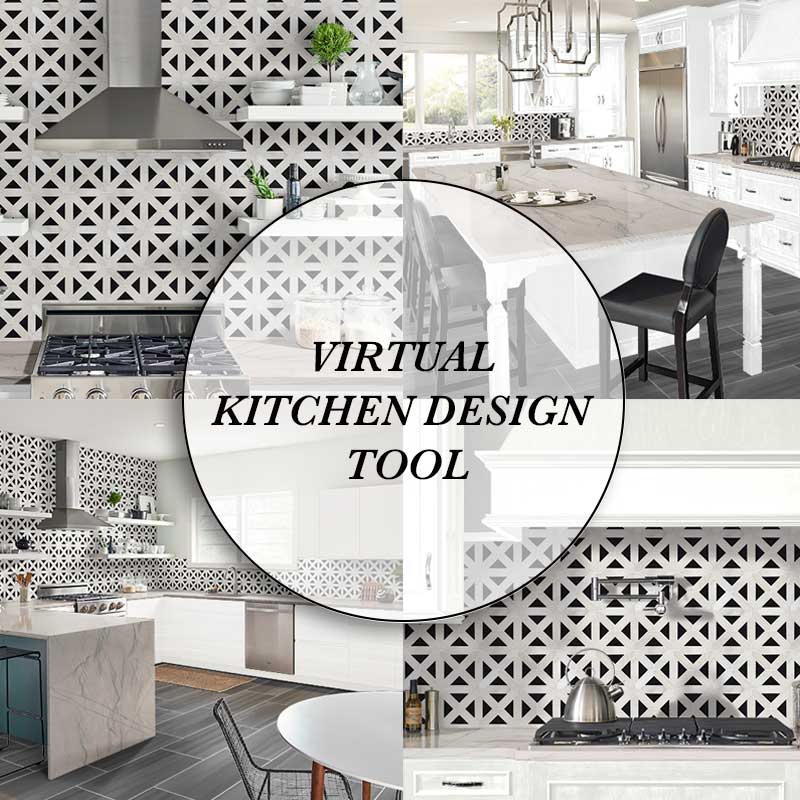 Virtual Kitchen Design Tool
The Midwest Marble & Granite Kitchen Virtual Design Tool allows you to choose from three kitchen layouts, a wide variety of cabinet colors, tile backsplashes, countertops, and floor tiles.
Quartzite Countertop Finishes
Polished
A smooth surface with a glossy finish that reflects light. A polished finish highlights the pattern and color of the quartzite.
Honed
Honed has less shine and looks more natural.
Concrete
It's a lightly textured surface that appears grainy.
Leathered/Brushed
Leathered/brushed feels bumpy or coarse to the touch. This surface is the most porous.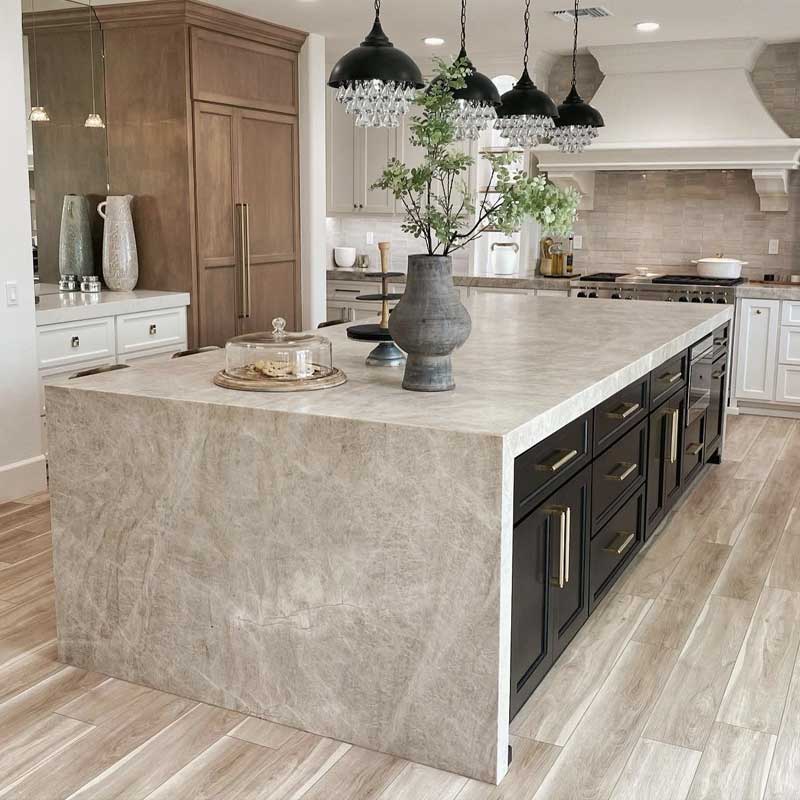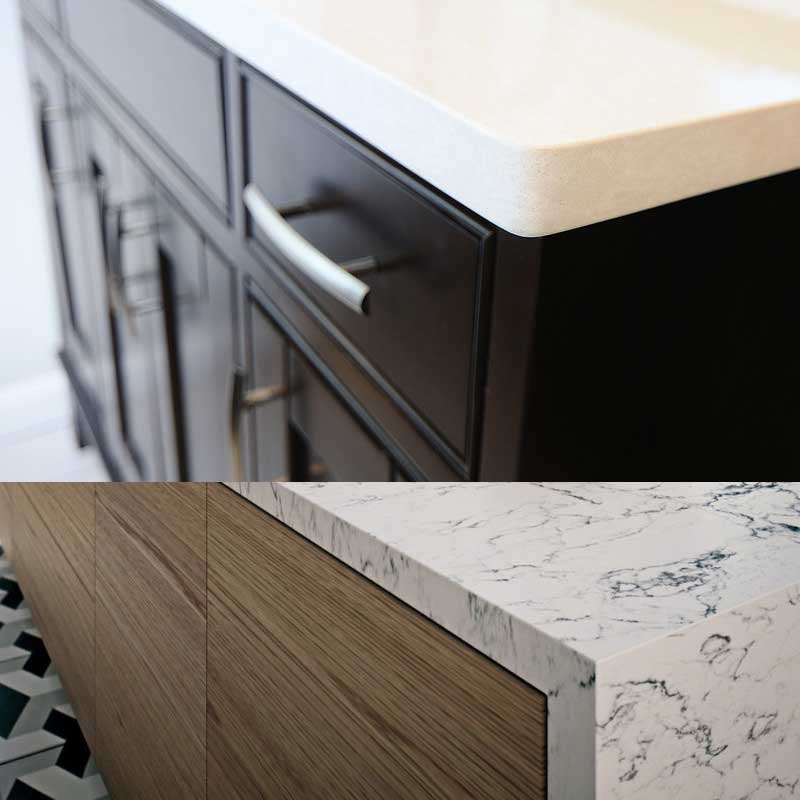 Popular Quartzite Edge Options
Eased Edge
An eased-edge countertop has rounded square edges. The look and feel will be modern, simple, and classy.

Waterfall Edge
A waterfall edge makes a 90-degree angle at the end of the countertop. Rather than simply ending with a finished edge, the countertop turns toward the floor and continues down the side of the cabinet, island, or seating area.
Quartzite & Spirituality
Quartzite has some wonderful healing properties for the mind, body, and spirit. Quartzite is a natural energy and mood stabilizer.
Quartzite is also an amazing grounding element meaning it ensures that changes do not occur so rapidly that your overall balance is upset; it holds the reins and prevents changes from occurring too swiftly.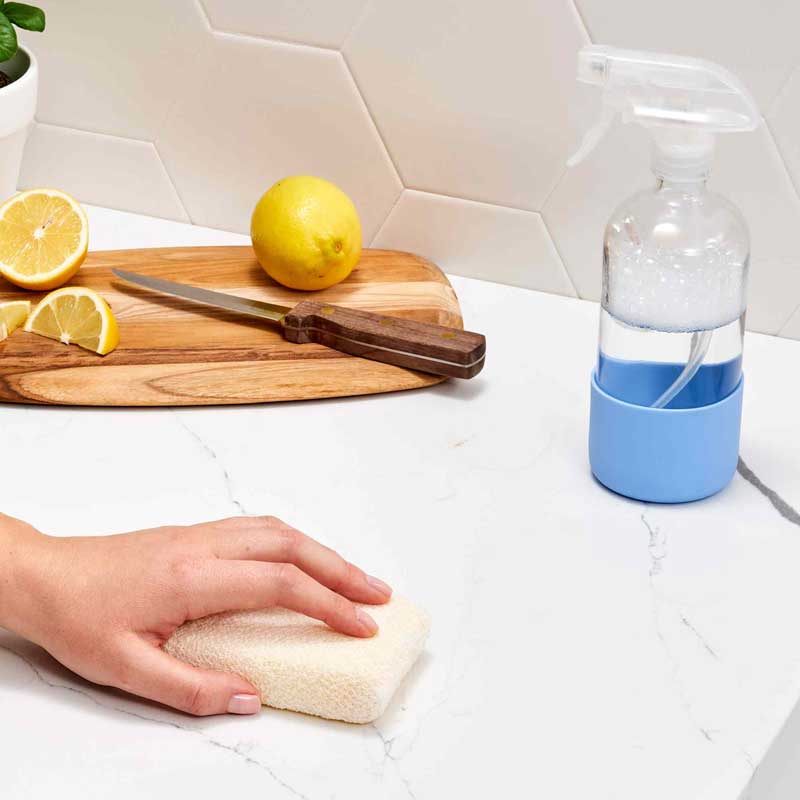 Quartzite Countertop Care
Keep it simple with these easy-to-follow tips on how to care for your Quartzite countertops.
A damp washcloth with a drop of PH-balanced soap is really all you need.
NEVER use granite cleaners from a store as they tend to contain "Enhancers" or oil bases that can darken the stone.
ALWAYS clean spills as soon as they happen. The longer a spill sits on the top, the greater the likelihood of staining.
Midwest Marble & Granite Countertop Installation Service Area
Midwest is located in Olathe, KS but provides expert quartzite countertop installation services to Overland Park, Lenexa, Shawnee, Leawood, Shawnee, Desoto, Lee's Summit, and the entire Kansas City area.