The Definitive Guide to Quartz Countertops
Introduction:
Everything You Need To Know About Quartz Countertops
Getting your kitchen countertops right is the most essential factor in ensuring a functional and practical kitchen area. Whether your current countertop situation is cramped and small, just right but impractical, or large and expansive, a countertop redesign with the right materials will make all the difference in helping you to get the most out of the space. In this guide, Midwest Marble & Granite will cover every topic you will need to research before you get started.
What is Quartz?
Quartz is one of the most common minerals in the Earth's crust. It is found in all forms of rock: igneous, metamorphic, and sedimentary.
Natural-quartz crystals are mined, then ground into a dust or an aggregate that's fused with resin binders under intense heat and pressure to form a solid slab. Typically, the composition is about 90-95% quartz to 5-10% resin.
So while quartz countertops feature a lot of natural stone, they are ultimately engineered or man-made stone.
Is Quartz Becoming More Popular Than Granite?
In short…yes. Homeowners who in years past might have chosen slab granite are increasingly choosing quartz. Quartz is overtaking Granite as the number one, most desirable countertop material on the market.
Quartz Countertop Benefits
In the not-so-distant past, homeowners in luxury homes all wanted granite countertops. But in the last several years many of these homeowners are looking for quartz as an alternative countertop material. These are the top reasons why.
Quartz is non-porous which makes it stain-resistant.
Quartz is also heat resistant.
Quartz comes in a wide range of colors and patterns.
Quartz has a uniform look and feel.
Because quartz isn't porous, it resists bacteria.
How much does it cost to have Quartz Countertops installed?
The average cost to have Quartz countertops installed in the Kansas City area averages between $75 – $125 per square foot including template, materials, labor, and cleanup.
What causes the cost to fluctuate?
Quality of the Quartz.
Supply and demand of the Quartz.
Old countertop removal & disposal.
Edge profile choice.
Sink cut-out & sink installation.
Your location/distance from our shop.
Top 5 Quartz Countertop Manufacturers
Thanks to today's advanced manufacturing techniques, companies are producing engineered stone products that can rival the look and feel of the most beautiful natural granite and marble and offers better durability and stain resistance at an affordable cost.
MSI Quartz
Metro Quartz
Calcatta Quartz
Silestone Quartz
Most Popular Quartz Countertop Colors
From solid bright white to a grey brushed-like finish, these latest Quartz countertop color trends will set the tone for the rest of your design scheme in 2022.
Calcatta Classique Quartz
Calcatta Verona Quartz
Calcatta Lago Quartz
Babylon Grey Quartz
Calcatta Laza Quartz
Arctic White Quartz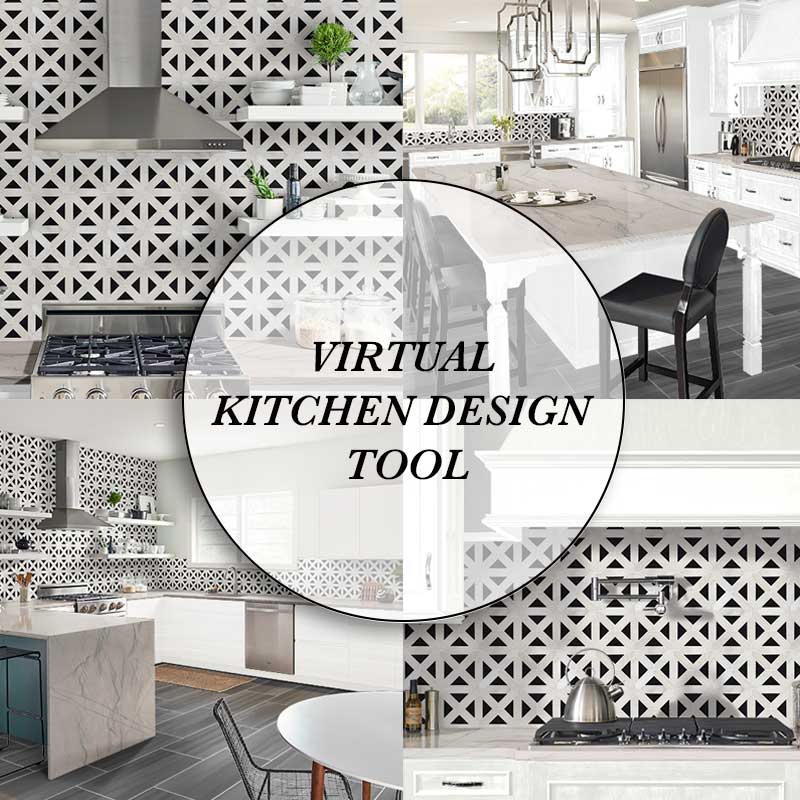 Virtual Kitchen Design Tool
The Midwest Marble & Granite Kitchen Virtual Design Tool allows you to choose from three kitchen layouts, a wide variety of cabinet colors, tile backsplashes, countertops, and floor tiles.
Quartz Countertop Finishes
Polished
A smooth surface with a glossy finish that reflects light. A polished finish highlights the pattern and color of the quartz.
Honed
Honed has less shine and looks more natural.
Concrete
It's a lightly textured surface that appears grainy.
Leathered/Brushed
Leathered/brushed feels bumpy or coarse to the touch. This surface is the most porous.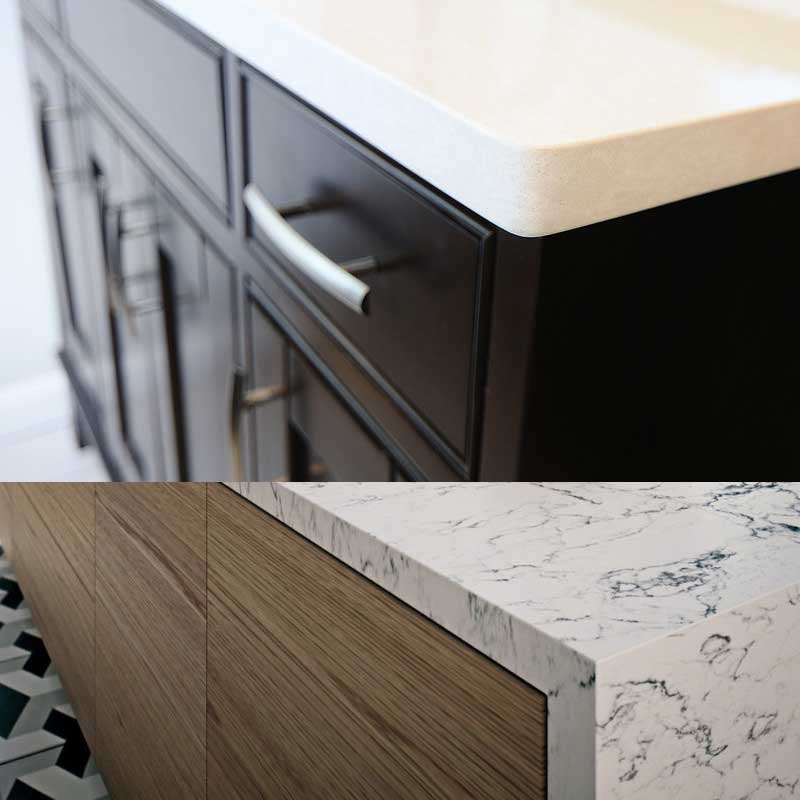 Popular Edging Options for Quartz Countertops
Eased Edge
An eased-edge countertop has rounded square edges. The look and feel will be modern, simple, and classy.
Waterfall Edge
A waterfall edge makes a 90-degree angle at the end of the countertop. Rather than simply ending with a finished edge, the countertop turns toward the floor and continues down the side of the cabinet, island, or seating area.
Quartz & Spirituality
It has been called the "Universal Crystal" because of its many uses and is beneficial for manifesting, healing, meditation, protection, and channeling. Due to its ability to balance, quartz is excellent for harmonizing and stabilizing one's environment.
Kitchens are representative of sustenance, nourishment, prosperity, and wealth in Feng Shui. Granite countertops bring the earth element into it with unique richness, beauty, as well as practicability.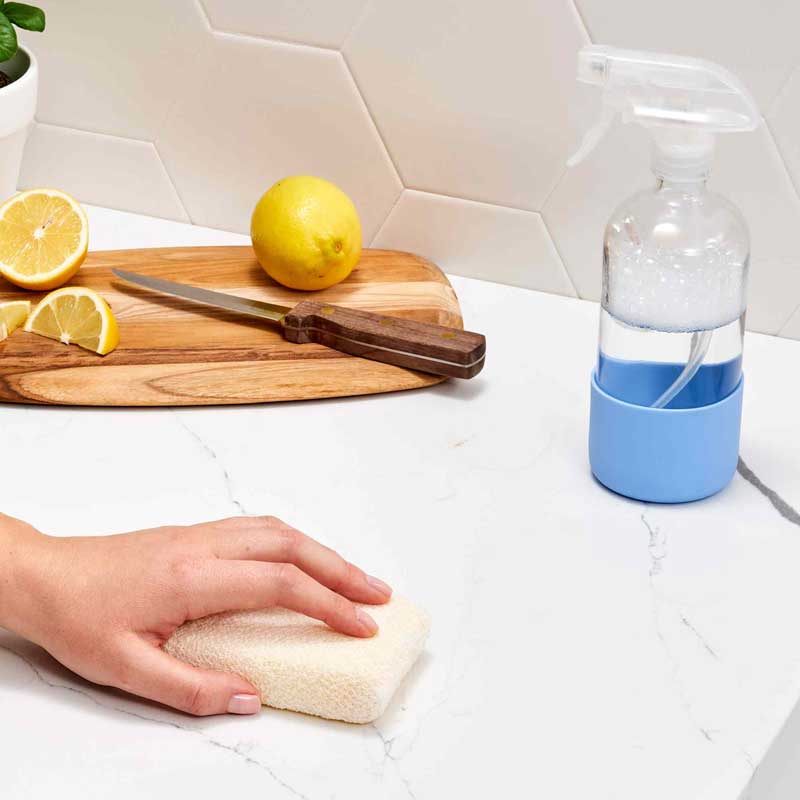 Quartz Countertop Care
It's as Easy as 1, 2, 3!
Step 1: Wipe down your Quartz Countertops with mild dish soap and a soft rag.
Step 2: Gently scrape dirt or food from the Quartz surface with a putty knife.
Step 3: Wipe off grease using a Quartz safe degreaser.
Visit Showroom or Schedule Design Consult
Midwest Marble & Granite Countertop Installation Service Area
Midwest is located in Olathe, KS but provides expert quartz countertop installation services to Overland Park, Lenexa, Shawnee, Leawood, Shawnee, Desoto, Lee's Summit, and the entire Kansas City area.